Would you like to move in or to The Hague and can't get through the madness? Call our office. We will help you in your search and take care of the rental process for you.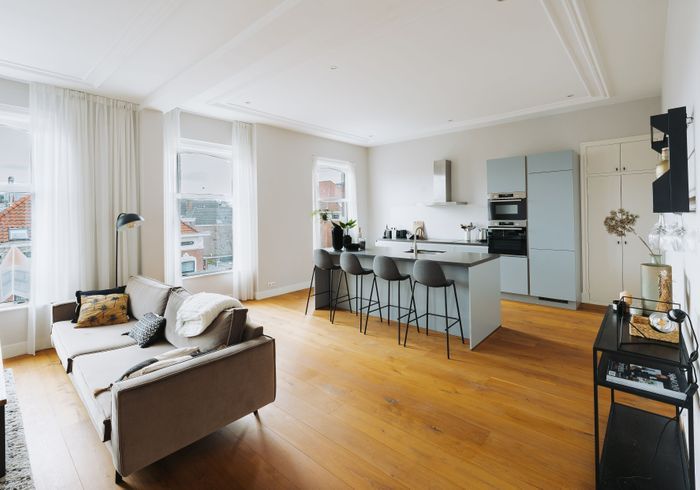 Together we will search for your rental property
Finding a suitable rental property in The Hague, Wassenaar or that area can prove to be a real challenge when you do not know where to start. The rental agents at De Familie Makelaar understand the importance of a nice house to live in. For you alone, together or with your family. We ourselves are a young family, too. Our real estate agents have an extensive network of property owners who are looking for a tenant for their home. A true full-service estate agency means real personal attention. Want to start your search right away? Register for our no-obligation search service and automatically receive suitable available properties in your mail.
Subscribe here
1
Getting to know
In a (digital) introductory meeting you will meet your agent and together we will go over your wishes and requirements.
2
Providing documentation
Upon confirmation of your assignment, we would like to receive your name and address details, salary specifications and a copy of your identity documents so that we can verify these and submit them to a letting agent upon request.
3
Description of search area and specific housing needs
We create a search profile on your behalf with all your wishes and requirements for the property, location, amenities and furnishing.
4
Property alerts
Amet id eget velit sed mollis orci. In semper convallis sed ut mi magna amet vestibulum. Lorem egestas mattis orci et. Dignissim magna dolor morbi nunc quis augue faucibus tellus. Augue facilisis volutpat erat luctus. Et nibh ante id arcu arcu vitae maecenas.
5
Home search
When you have visited a house and you like it, we will start our research into the house and the rental agent's documents. This way, you can be sure there will be no surprises.
6
Reviewing contract documents
We deliver your documentation to the letting agent for drawing up the rental agreement. We also check this before you sign it.
7
Inspection
If desired, we will accompany you to the inspection and check the inspection report. This is where you receive your keys and can start enjoying your new home!
Ik heb onlangs samengewerkt met Pepijn van de Familie Makelaar bij het vinden van mijn nieuwe huurwoning in Den Haag en ik kan Pepijn niet genoeg aanbevelen. Zijn expertise en professionaliteit maakten het hele proces zo veel gemakkelijker en efficiënter dan ik had kunnen verwachten. Vanaf het eerste contact was de verhuurmakelaar zeer responsief en behulpzaam. Ze hadden een goed begrip van mijn wensen en behoeften en stelden verschillende woningen voor die daarbij pasten. Ze waren flexibel en pasten zich aan mijn schema aan om bezichtigingen te plannen en waren zeer goed geïnformeerd over elke woning die we bezochten. Toen ik eindelijk de perfecte woning had gevonden, stonden ze me bij met het hele proces van de huurovereenkomst. Ze legden alles duidelijk uit en hielpen me bij het onderhandelen van een redelijke huurprijs. Ook na het tekenen van de huurovereenkomst bleef de verhuurmakelaar in contact om ervoor te zorgen dat alles soepel verliep en ik me thuis voelde in mijn nieuwe woning. Over het algemeen was mijn ervaring met de Familie makelaar zeer positief. Ik ben dankbaar voor hun hulp en expertise bij het vinden van mijn nieuwe woning en zou hen zeker aanbevelen aan iedereen die op zoek is naar een huurwoning in Den Haag.
Mariëlle Tonnon
Ik ben onlangs verhuisd naar een nieuwe stad en heb de hulp ingeroepen van een makelaar bij het vinden van een geschikte woning. Ik koos voor de Familie makelaar en ik kan eerlijk zeggen dat ik zeer tevreden ben met hun dienstverlening. De makelaar waarmee ik werkte was zeer professioneel en deskundig. Hij begreep precies wat ik zocht in een woning en ging vervolgens aan de slag om de perfecte opties te vinden. Hij was altijd bereikbaar en antwoordde snel op al mijn vragen en zorgen. Wat ik het meest waardeerde aan de familie makelaar was hun toewijding om te zorgen dat ik de beste deal kreeg. Ze zorgden ervoor dat ik geen enkele stap oversloeg en boden advies en begeleiding gedurende het hele proces. Dankzij hun inzet en expertise heb ik nu mijn droomwoning gevonden. Ik zou de Familie Makelaar ten zeerste aanbevelen aan iedereen die op zoek is naar een nieuwe woning. Ze hebben mijn verwachtingen overtroffen en ik kan niet genoeg goede dingen over hen zeggen.
Max Magura
Zeer prettig en professioneel geholpen en was ook erg blij dat ik buiten kantoor uren ook terecht kon. Kortom een aanrader !
Karin Mulder
Perfecte dienstverlening. Toen ik in twijfel zat om mijn woning te verkopen kwam ik bij Pepijn terecht. Hij heeft mij begeleid en goed advies gegeven voor het verkopen en/of aanhouden van de woning. Prettig geholpen.
Danny Huijtink
Super attente makelaar, die de tijd heeft genomen om naar onze wensen te luisteren. Hierdoor hebben wij uiteindelijk ons ideale huis gevonden. Kennis, ervaring en prettige communicatie!
Frans Wellink